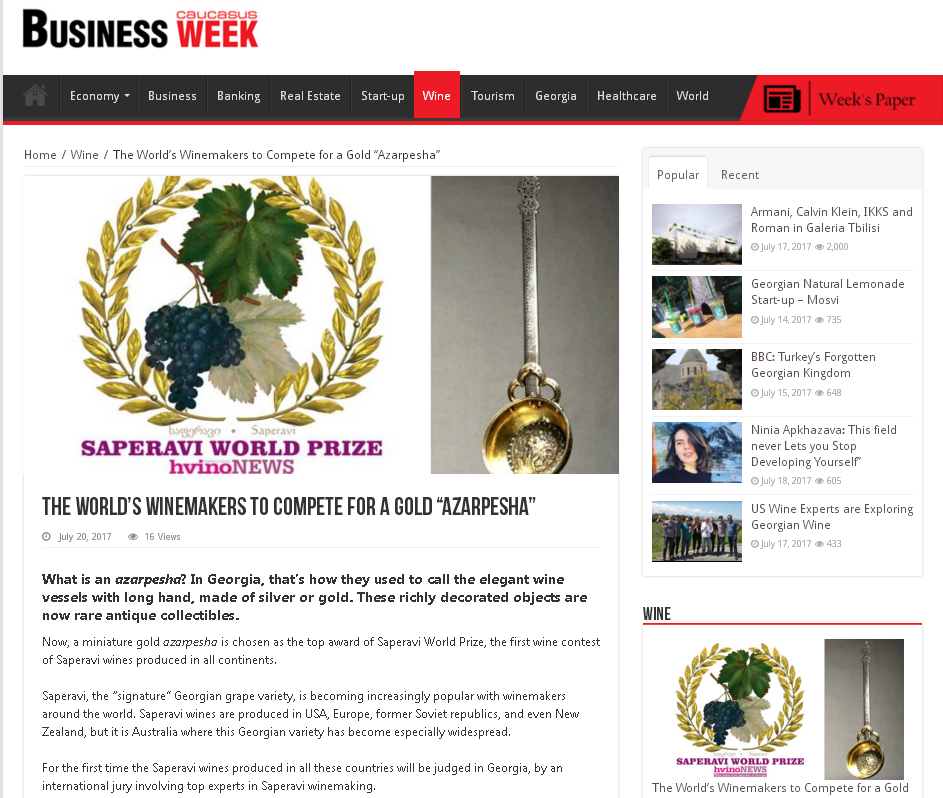 20.07.2017. Today
Caucasus Business Week
published article on SapPrize, entitled
"The World's Winemakers to Compete for a Gold "Azarpesha"
. Read the text of article below in abridged version:
What is an
azarpesha
? In Georgia, that's how they used to call the elegant wine vessels with long handle, made of silver or gold. These richly decorated objects are now rare antique collectibles.
Now, a miniature gold azarpesha is chosen as the top award of Saperavi World Prize, the first wine contest of Saperavi wines produced in all continents.
Saperavi, the "signature" Georgian grape variety, is becoming increasingly popular with winemakers around the world. Saperavi wines are produced in USA, Europe, former Soviet republics, and even New Zealand, but it is Australia where this Georgian variety has become especially widespread.
For the first time the Saperavi wines produced in all these countries will be judged in Georgia, by an international jury involving top experts in Saperavi winemaking.
"It was not easy task to identify all the world's wineries which produce Saperavi, and it required a lot of research, – explained Inge Olsson of Hvino News. – But, once we contacted them, we were happy to see the enthusiasm of winemakers excited about our initiative. One of the winemakers has shortened "Saperavi World Prize" to "SapPrize" and we decided to keep the catchy name".
While the list of participants is almost complete, the entry is still open for wineries from outside Georgia, who produce Saperavi. Participation in the contest is free for winemakers thanks to support of corporate sponsors – Georgian and international companies interested in raising awareness of their brands on international level.
"It seems our project came at right moment, as it was welcomed by everybody: not only winemakers, but also the sponsors, and the mass medias", – Inge Olsson noted. That's very important for us, as the attention of leading world press helps to reach the main goal – make Georgia and its culture become better known and more popular in the world".
Read full text
here
.
All media clippings will also be available in
Press Section
of our website.